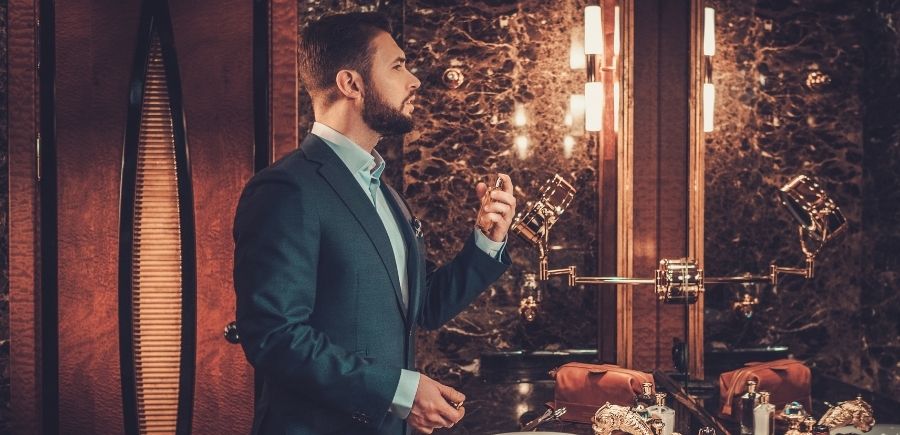 A signature scent is a personal scent memory that is to be cherished between your friends and loved ones.
It can be very daunting to find your signature scent. Finding a signature scent is just like the process of discovering your uniform.
Until and unless you are sure that you have met your perfect match, the idea of wearing signature scent seems daunting. So, it's better to figure out the right fit for you.
It doesn't mean that you have to head over to every shop and spritzing on every single bottle on display. It's just a big headache.
We have covered some tips and tricks to find a signature scent through this short guide without wasting a bunch of money.
Let's Get Started!
1) Basic Strategy
There are excellent options available when it comes to fragrance. The first thing to consider when finding your fragrance is to consider what scent is best for you.
If you want to start wearing a fragrance and already have some, then simply purchase a good quality fragrance. It doesn't mean that it needs to be unique and expensive.
In fact, you can start with premium fragrances at first, which are very nice. Most of the guys wear fragrances because they want to get compliments from other people. They want to smell good and to have other people notice, most likely by, a woman.
Once you start wearing fragrance, all of a sudden, you realize that you enjoy wearing it, and it puts you in a better mood. So, start to wear it for yourself!
2) Keep the Smell you Already Love in Mind
Another critical factor in finding your signature scent is to think about the smell you already love.
If you love the scent of flowers, chocolates, and fresh bakery items, you should try to look for perfumes with similar notes.
Another idea is before you plan to shop for a signature scent, make sure that you plan to have lists of the scent that you already love or have discovered.
3) Trust your Judgment
Finding the signature scent is not easy, but it is important to trust yourself and your decisions. Lack of confidence leads to making the wrong decisions.
Some fragrances can be hyped up, and other scents are panned by the critics. The point is that you need to decide for yourself because you are the only person who can find the fragrance that's going to work with your chemistry.
And if the body fragrances match and mix with your body chemistry, it is preferred as the best ones.
4) Don't Worry about Harmful Ingredients
Every individual needs to know about this. Believe it or not, when it comes to harmful ingredients, perfumes are the only beauty product you don't have to worry about.
Ingredients in perfumes are hardly harmful to your skin and body.
Sometimes some individuals may be allergic due to sensitive skins. Even most of those ingredients are safe for most people.
According to the FDA, companies, and individuals who manufacture the products will have a legal responsibility for ensuring that their products are safe and properly labeled.
5) Get in the Right Mood before you try New Fragrances
You need to be in a good mood when trying a fragrance. The setup, packaging, the fragrance presentation, and even how you feel when trying it, does matter. It goes a long way.
If you are really in a bad mood or not feeling good, please don't try a new fragrance. What you don't want to do is associate that negative feeling with a great aroma.
If you don't want to get disappointed and spend lots of money on fragrances, then build it up and make sure that you try it when you are in a great mood and feel good.
6) Learn More About Fragrances
The next step is to discover more about the fragrances that you are wearing. You can learn about the different notes used to make perfumes to get a better idea of which ones you think will suit your tastes.
As all fragrances tell a different story, a great fragrance creates a whole new trend. You can research websites to know the history behind the great fragrances.
In the end, you will realize where your taste fits in the perfume industry.
7) Practice Wearing more Fragrances
Another step to finding your signature scent is actually to practice wearing more fragrances.
How long does one spray lasts on your body, and is it something that other people notices? Maybe two or three sprays on?
Some of these things can choke out in a room. But, you want to practice wearing this fragrance on your body and see how people will react.
When you practice wearing your fragrance, you will see how it performs under various conditions.
Some days it will be a typical working day, and maybe your fragrance will fade out by 4 or 5 PM. So by this, you will start to understand how they work with your body.
8) Temperature Effects the Fragrance
In hot weather, the notes will intensify and whereas, in cold weather, it is harder to evaporate. Temperature adds a massive impact on how the scent is perceived. One of the things to consider when choosing a fragrance is the weather.
Your perfume needs the heat to work as they are just aromatic molecules. Once it is applied to your skin, it begins to evaporate, and the molecules are released into the air.
So it's essential to choose your scents carefully when wearing perfumes in hot or cold weather.
9) Test the Perfume on Yourself
Spray the perfume on your wrist and then let it drop to your side. And wait some seconds for the scent to settle on your skin.
Never purchase scents on a whim because it smells good on someone else or in the bottle. As perfumes are highly individualistic, it doesn't mean it will be suitable for every skin type.
Your body chemistry, heat, oils, and even the bacteria on your skin plays an important role. That's how it affects on person to person.
10) And Don't Forget to Buy
And the last step to complete after you chose the right signature scent is to grab it. Don't be afraid to buy it because you will get to learn and have a base start.
People sell small samples, or you can also go directly to the manufacturers. You can probably find some cheap qualitative fragrances that will suit your body chemistry.
CONCLUSION
How to tell if the scent is right for you or not?
Here's how; The thing is that you need to love the smell of your scent.
And if you are getting a lot of good compliments about it, you are definitely on the right track.
Not only will you love it, everyone will love it. When other people compliment you then, that's how you get remembered by them, and that's your signature scent.
Do you have your signature scent?
If you believe that we need to add some more points then, we are just an email or a message away.
Want to share the content? Please free to and help us grow.